Very Unusual Perfume Featured
Thoughts have no bounds.!!!
There is no limit to creators' imagination, but if there is a demand, then why not?!!!
There is not much to say, look for yourself and evaluate. :)


1. "Funeral" cologne
Perfume company Demeter's Fragrance Library is a real depository of products with the most unbelievable aromas, such as: cologne with mold scent, shower gel after which you'll fume like seaweeds, etc. Their super popular creation is "Funeral Home" cologne that combines intense bouquet of flower aromas, like the ones growing on graves (lilies, carnations, cornflags, golden daisies), and faint notes of tainted foliage, creating an unusual aroma for the cologne, that will remind you of dead relatives, cemetery and other horrors close to death.
2. Vulva aroma


Vulva Original is a scent of female exudation that will allow you to enjoy the odour of a real woman. It is especially highlighted on the product website that Vulva Original is not a perfume, but an aroma created to please your most vile instincts. While normal perfumes with an intense bouquet of aromas are made to improve human body scent and to attract attention to it, Vulva Original is sprayed on a hand and then immediately inhaled. The aroma of vaginal exudation is in high demand among American, Chinese and Russian perverts, who order the unusual product in liters.
3. Visible perfume


The aroma of this perfume may not be original but you can always see it on your body. Perfume Wode partly consists of paint that leaves cobalt-like blue stains of skin and clothes. After several minutes this rave of color is gone without a trace.
Boudicca promotes Wode as the first visible fragrance. If you've always wanted to paint yourself without harm for health, now you have this opportunity thanks to the new cologne from Boudicca.
There are two versions of the perfume: Wode Paint – for those who love bright colors; and Wode Scent – for conservatives, without paint.
4. Meaty aromas


In 2008 fast food giant Burger King introduced its line of perfumery products with a scent of fried meat. Cologne "Flame" is distributed solely in the USA at 4$ per flask.
This unusual cologne is not suted for vegetarians and is promoted as aroma of temptation with a faint note of fried meat.
5. "Stilton Cheese" cologne

In 2006 English cheesemongers, specializing in the production of Stilton cheese with the most disgusting scent there is, released cologne Eau de Stilton with the scent of their favorite dairy product.
The creators assure that their cologne has a scent of a soft earth and colorful fruity odour, which is allegedly the same as spicy Stilton with blue mold has.
In order to soften up the disgusting aroma of the cheese, it was decided to dilute it with a symphony of natural scents including achillea, angelica seed, sage and allheal.
6. Cologne with scent of a lobster

Another crazy flavor of brilliant British perfumers of Demeter's Fragrance Library. Demeter Lobster combines the scent of the sea, lobster meat and butter. This perfume is especially in great demand among the residents of China.
7. The secret of seduction – Blood, Semen and Saliva

"Secrets of Seduction"(Secretions Magnifique) possesses a truly indescribable bouquet of aromas, in view of the fact that it includes blood, saliva and semen.
As the creators claim "Secrets of Seduction" is the smell of animal nature, which gives you a feeling of superiority, helping you completely forget about your complexes.
"Secrets of Seduction" is the brainchild of a French perfume factory Etat Libre d'Orange perfumers.
Their products are sold only in New York elite shop for the most affluent people - Henri Bendel.
8. DNA aroma


This is probably the most unusual and expensive perfume in the world; until recently it was only used by the great due to the uniqueness of its production. The fact is that it includes the smell of DNA. Perfumers, creating this unusual cologne claim that each person's DNA smell is unique and has a truly indescribable bouquet of aromas that can seduce any individual of the opposite sex.
9. Cologne with the scent of fragrant marijuana


According to the manufacturer of this product, Cannabis Santal Eau de Parfum has a pungent aroma of the forest, granting you serenity and tranquility away from your current problems.
The fragrance of citrus is intertwined with warm notes of chocolate, essential oil and supplemented by a fragrant aroma of marijuana.
10. The scent of KISS after a 3-hour-performance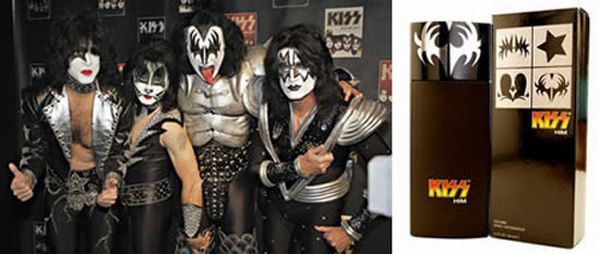 Hardly anyone wants to fume with sweat, tobacco and alcohol, but true fans of KISS certainly appreciated the opportunity to literally reek of their idols.
Last modified onSubota, 21 Rujan 2013 10:37
Latest from Alen
back to top